Cuello's Distillery Limited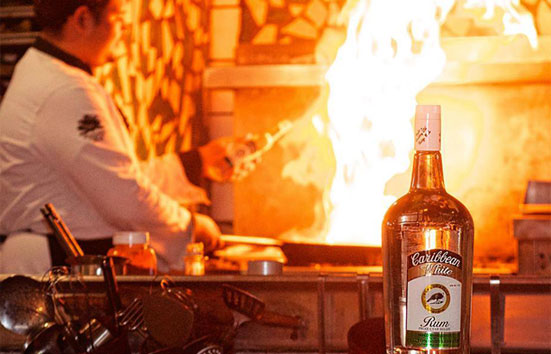 In the early 1960's, Mr. Ignacio Cuello, gave way to his intrepid dream of becoming an entrepreneur; thus, establishing one of the first bakeries in Orange Walk Town. This bakery was located on the boundary of present day Main Street and Market Lane.
Working arduously at his bakery, his vision advanced progressively into producing rum. After a striking deal over the prominent "Bound to Shine Estate" with Tate & Lyle in the mid 60's, Mr. Ignacio, ventured into his long awaited dream of becoming a distiller.
In 1968, "Cuello Brothers" was established as a corporate partnership among Mr. Ignacio Cuello and his five sons-Francisco, Ernesto, Osvaldo, Pedro and Froylan. Their new production site was located on a picturesque estate near the village of Yo Creek. Through the years, labor went on becoming more intense at Distillery as a demand for Caribbean Rums soared. A new clientele was formed, a more organized working environment was executed, and a unique flavor formula was gradually becoming popularized among drinkers. By 1986, "Cuello Brothers" had given a milestone of a step by chartering itself into a blossoming company- Cuello's Distillery Limited. A new logo was formed with the emblem "Rums of Belize", a staggering and outstanding turkey as its symbol. A slogan was also established, "Belize's best! Drink our fine liquors."
The reigns of the company had fully been ascended to the hands of Mr. Froylan Hilberto Cuello, known to many by his charisma as "Hil" or "Cheezy". My father, filled with the legacy of his dad, was also a visionary man. Under his precept, the company saw the dawn of a new era, a new family, and some of the most astounding parts of the company's history. By the late 80's into the early 90's, the company, particularly the product line's trademark saw significant brand loyalty by a nation of new drinkers. Caribbean Rums had become a household name. In 1995, after much preparation and endurance, the contested Caribbean White Rum won first place at the International Rum Fest over renowned names like Bacardi, Appleton, and Ron Rico. The company's estate was recognized in the late 90's by Archaeologists worldwide for it's hosting of the oldest Maya Site in Meso America, i.e. Cuello's Site and inherently becoming a National Monument of Archaeological importance.  
Today, the company reaps the visions of our grandfather and father with much pride. Currently, we have extended our product line to nine-i.e., the ever popular Gold Rum, the championing White Rum, Green Stripe, Czar Vodka, Trafalgar Gin, Imperial Brandy, Aniseed, Coconut Rum and the Extra Strong Rum. Our customers are given an array of choice as to our product line to delight their drinking. In keeping with the legacy of our father, this family oriented company, has aimed at being socially-responsible by supporting worthy causes that benefit our local and global community. We have served the community over the past years in areas of sports, youth and culture, history, education, just to name a few. In 2012, we have been awarded with the prestigious "Corporate Social Responsibility Award" by Youth for the Future for what they have